Don't let plumbing issues disrupt your peace of mind any longer. Contact us today for reliable and efficient plumbing services that cover everything from repairs to installations, ensuring your plumbing needs are met with utmost care and professionalism.
Expert Plumbing Services for Rock Hill, SC Residents
At Full Spectrum Plumbing Services, we provide a wide range of professional plumbing solutions tailored to meet the specific needs of Rock Hill, SC residents. From routine maintenance and repairs to new installations and emergency assistance, our team of experts is dedicated to delivering exceptional service and ensuring your plumbing systems run smoothly.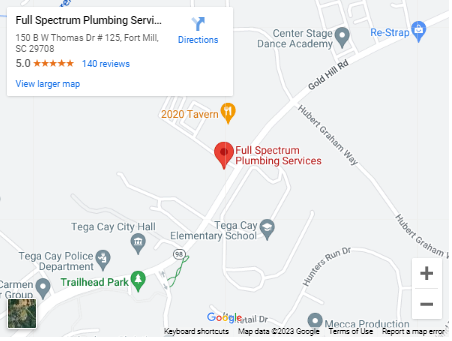 Exploring the Charms of Rock Hill, SC: From Tourist Spots to Annual Events
Rock Hill, SC, is a vibrant city that seamlessly blends natural beauty, historical sites, and a thriving community. Nestled in York County, South Carolina, Rock Hill offers a plethora of tourist attractions, exciting annual events, and picturesque landscapes. Amidst the city's allure, Full Spectrum Plumbing Services stands as a reliable partner, ensuring the seamless operation of plumbing systems throughout Rock Hill.
Situated in the picturesque Piedmont region, Rock Hill boasts stunning natural landscapes. The city is blessed with lush greenery, including parks and gardens that beckon visitors to immerse themselves in nature's beauty. From the sprawling Glencairn Garden to the serene River Park on the banks of the Catawba River, Rock Hill offers a tranquil escape from the bustling city life.
Rock Hill presents a myriad of attractions for visitors to explore. The iconic Main Street, lined with charming shops, restaurants, and art galleries, invites both locals and tourists to enjoy a leisurely stroll. The Museum of York County showcases captivating exhibits that delve into the region's history and natural heritage, while the Catawba Cultural Center provides insight into the rich Native American culture. Carowinds amusement park, located just a short drive away, promises thrilling rides and family entertainment.
Rock Hill hosts an array of annual events that bring the community together and attract visitors from far and wide. The Come-See-Me Festival, held in April, offers a week-long celebration featuring concerts, parades, fireworks, and various family-friendly activities. The ChristmasVille Festival, a winter wonderland extravaganza, transforms the city into a festive realm with sparkling lights, art exhibits, live music, and a lively holiday market.
Amidst the charm of Rock Hill, Full Spectrum Plumbing Services serves as a trusted plumbing partner for residents and businesses alike. With a team of skilled professionals and a commitment to excellence, we offer a comprehensive range of plumbing services.
Whether it's routine maintenance, emergency repairs, or new installations, Full Spectrum Plumbing Services ensures that Rock Hill's plumbing systems operate smoothly, allowing residents and businesses to focus on enjoying all that the city has to offer.
Rock Hill, SC, presents a delightful blend of natural beauty, cultural attractions, and exciting events throughout the year. From exploring historical sites to reveling in the tranquility of its parks, the city offers something for everyone. As residents and visitors engage in the vibrant Rock Hill community, Full Spectrum Plumbing Services remains dedicated to providing reliable and efficient plumbing solutions, ensuring a seamless experience for all.
Boost Your Water Flow with Expert Booster Pump Services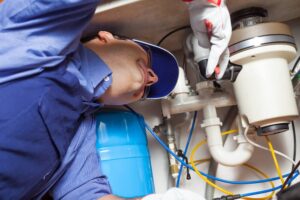 At Full Spectrum Plumbing Services, we specialize in booster pump solutions that enhance water flow and pressure in your residential or commercial property. Our experienced team is equipped to handle a range of booster pump services, including repairs and installations, to ensure optimal performance and convenience. With our booster pump expertise, you can enjoy consistent water pressure, improved irrigation systems, and a reliable water supply throughout your property.
Our Booster Pump Services include:
Repair

Installation

Upgrades and Replacement

Maintenance, Plumbing Benefits and more!
Repair
Our skilled technicians are trained to diagnose and fix any issues with your existing booster pump system, ensuring efficient operation and restoring optimal water flow.
Installation
We provide expert installation services for new booster pumps, tailored to your specific needs. Our team will assess your property's requirements, recommend the appropriate pump size and capacity, and install it with precision.
Upgrades and Replacements
If your current booster pump is outdated or no longer meeting your water pressure needs, we can guide you through the process of upgrading or replacing it. Our experts will help you select a modern, energy-efficient pump that maximizes performance and cost savings.
Maintenance
We offer regular maintenance services to keep your booster pump in top condition, preventing potential breakdowns and prolonging its lifespan. Through routine inspections and tune-ups, we ensure your booster pump continues to deliver reliable water pressure.
Benefits of our Booster Pump Services:
Increased Water Pressure:

A properly functioning booster pump can significantly enhance water pressure, ensuring a consistent flow in showers, faucets, and other water outlets throughout your property.

Improved Irrigation:

Booster pumps are essential for efficient irrigation systems, providing sufficient water pressure for watering your lawn, garden, or agricultural areas effectively.

Reliable Water Supply:

With a booster pump in place, you can rely on a steady water supply, even during periods of high demand or fluctuating water pressure in your area.

Customized Solutions:

Our team will assess your unique needs and recommend a booster pump system that matches your property's size, water usage, and specific requirements.
Trust Full Spectrum Plumbing Services for all your booster pump needs, and experience the benefits of enhanced water flow and pressure in your home or business.
Other Plumbing Services We Offer
Why Choose Full Spectrum Plumbing Services?
Expertise and Experience:

With years of experience in the plumbing industry, Full Spectrum Plumbing Services brings a wealth of expertise to every project. Our team of skilled professionals is well-versed in a wide range of plumbing services, ensuring top-quality workmanship and reliable solutions.

Prompt and Reliable Service:

We understand the importance of timely service, which is why we prioritize prompt responses and efficient scheduling. You can count on us to arrive on time, complete the job efficiently, and leave your property in excellent condition.

Comprehensive Solutions:

From routine maintenance and repairs to complex installations and emergency assistance, Full Spectrum Plumbing Services offers a comprehensive range of plumbing solutions. We address various needs, ensuring that your plumbing systems operate smoothly and efficiently.

Customer Satisfaction:

We value our customers and strive to provide exceptional service that exceeds expectations. We prioritize open communication, transparency, and personalized attention to ensure your complete satisfaction. Your plumbing needs are our top priority.
Choose Full Spectrum Plumbing Services for all your plumbing requirements and experience the difference of working with a reliable, experienced team dedicated to delivering top-quality service and customer satisfaction.
An unexpected drain or toilet clog can quickly disrupt your day and may even lead to more serious plumbing emergencies. Work with our experts for fast, safe, and effective drain cleaning solutions that will leave your plumbing lines or plumbing fixtures flowing like new again.
Struggling with an inefficient water heater? We can help you service and install all water heater makes and models, including tankless systems. Our service technicians will quickly assess the situation and provide cost-effective repairs. We also carry a wide range of energy-efficient models to help you save money on your energy bills. Contact us today to schedule an estimate for water heater repair or replacement in your area.
Leak Detection and Repair
Suspect a hidden leak in your home or business? Don't hesitate to contact our Fort Mill plumbers for immediate leak detection. We will use noninvasive methods to track down the leak and have the problem resolved as quickly as possible. We are also certified to work on commercial and industrial piping systems. No matter the size or complexity of your plumbing system, we have the tools and training necessary to locate and fix the leak.
Is your property on a septic system? We offer a range of septic solutions, including septic tank repair and drain field services. Our certified and experienced technicians can assess the condition of your septic system, identify potential problems, and recommend solutions to keep your system running smoothly. Call now to discuss your needs with our experts and get your septic system working efficiently in no time.
Enjoy Greater Peace of Mind With Preventive Plumbing Maintenance
At Full Spectrum Plumbing Services, we understand the importance of proactive maintenance for both residential and commercial customers. That's why we offer comprehensive maintenance plans designed to keep your plumbing system in optimal condition. Our annual maintenance plan includes a range of services to ensure the longevity and efficiency of your system.
With our maintenance plan, you can expect routine maintenance services such as leak checks, fixture replacements (if necessary), drain flow testing, and more. By regularly inspecting and maintaining your septic and plumbing system, you can detect potential issues early on and significantly reduce the risk of experiencing a plumbing emergency.
Investing in a maintenance plan not only provides you with peace of mind but also saves you from costly repairs and inconvenient disruptions in the future. Our qualified plumbers in Fort Mill, SC are ready to discuss your maintenance plan options and provide you with the best annual plumbing service tailored to your specific needs.
Don't wait for a plumbing emergency to occur. Take a proactive approach to maintain the health of your plumbing system. Contact us now to learn more about our maintenance plans and secure the expertise of our qualified plumbers in Fort Mill, SC. Together, we can ensure the long-term reliability and efficiency of your plumbing system.
Schedule with us today to learn more about Full Spectrum and the different service plans that we offer. Get a qualified plumbing service team in Rock Hill SC when you sign up year-round.
Full Spectrum Plumbing Services
1146 E White St Suite A, Rock Hill, SC 29730
https://fullspectrumplumbingllc.com/service-area/rock-hill/
Why Work With Our Rock Hill Plumbers?
At our plumbing company, our team of experts is fully committed to delivering 5-star service that comes with a personal touch. When you choose us, you can expect honest recommendations and top-quality solutions tailored to your specific needs. We understand that making the right decisions for your home or business is crucial, and we are dedicated to helping you navigate through those choices.
Whether you need plumbing repairs, installations, or maintenance, our team will go above and beyond to ensure your satisfaction. With our expertise and attention to detail, you can trust that we will deliver exceptional service that meets and exceeds your expectations.
Rest assured that all of our plumbing services are backed by our guarantee to meet local building codes and requirements. Your long-term peace of mind is our priority, and we are committed to upholding the highest standards of quality and safety in all our work.