A clogged drain or water heater? Call (803)366-1200 for Clover, SC plumbing solutions.
Are you looking for a trustworthy, affordable plumber? Full Spectrum Plumbing Services is your local, full-service plumbing company.
Our plumbers can fix leaking pipes, replace water heaters, and repair septic systems. We always take the time to examine your needs and assist you in finding a solution that suits your goals and budget.
Call today to schedule an appointment with our Clover, SC plumbers and experience hassle-free plumbing in no time!
Your Trusted Plumbing Experts in Clover, SC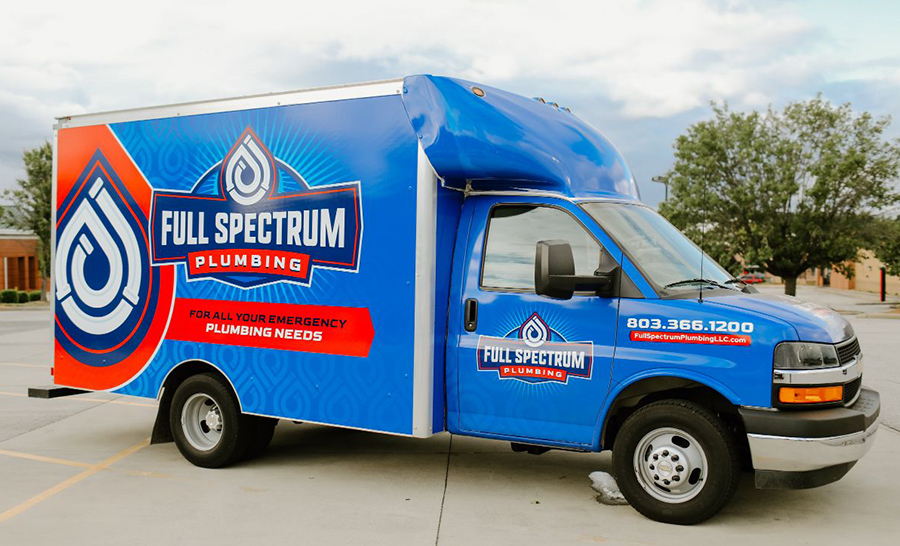 Full Spectrum Plumbing provides various plumbing services for residential and commercial customers throughout the Clover, SC, area. Our team of experienced plumbers is highly qualified to handle any plumbing demands with skill and precision. Our expert plumbers can do everything from basic repairs to complex installations!
We offer a full suite of services, including water heater installation and repair; sewer line and drain cleaning; toilet repair and replacement; faucet, sink, shower, and tub installation, and more. We are also your source for home remodeling projects like kitchen or bathroom renovations.
Our team is committed to providing you with the best service possible and will take the time to answer any questions you may have. Our plumbers are friendly, courteous, and professional and strive to provide each customer with top-notch service. We guarantee all of our work and can provide references upon request.
Plumbing difficulties can be distressing, so we prioritize doing the job right the first time! When you choose Full Spectrum Plumbing, rest assured that you are getting the best affordable service. Contact us today for a free estimate, and let us help you with all your plumbing needs!
Plumber Clover SC Experts in Drain Cleaning, Water Heater Installations, and More
Full spectrum plumbing services from All Plumber Clover SC Experts cover every need you might have in your home. Our experienced technicians are certified and can handle any plumbing repair or installation. Whether you need a routine drain cleaning, a water heater installation, or even emergency plumbing assistance, we're here to help you with whatever you need.
Our drain cleaning services include jetting, hydro-jetting, and snaking out clogs and blockages in your drains. Our technicians are trained to handle anything from basic router service to more complicated drain repairs. We can clear out clogged shower drains, kitchen sink drains, bathroom sink drains, and any other drainage problems you may be experiencing.
We also provide water heater installation services, including tankless and traditional water heaters. Our technicians have the necessary tools to install your new system properly. They are also experienced in installing additional equipment, such as expansion tanks or recirculation pumps, that may be required for larger homes or commercial spaces.
At All Plumber Clover SC Experts, our team provides superior plumbing services. We provide top-notch art and service available. With years of experience, you can trust that your plumbing needs will be handled quickly and professionally. Call us today, and let us help you with all your full-spectrum plumbing needs!
Plumbing Services Offer in Clover, SC
At Full Spectrum Plumbing, we proudly offer a wide range of plumbing services in Clover, SC. Our team of experienced plumbers can handle everything from small repairs and maintenance to complex installation services. Whether you need new fixtures installed, existing pipes repaired, or a complete remodel of your bathroom or kitchen, our skilled professionals have the experience to get the job done right.
Our services include water heater installation, drain line cleaning, water purification systems, toilet repair and replacement, sump pump maintenance and repairs, leak detection and repair, garbage disposal installations, repining of existing pipes, fixture installation and repairs, shower valve replacements, and much more.
No matter the job, we ensure our customers receive quality service every time. To guarantee your satisfaction, we only use products and tools of the finest plumbing system that runs efficiently and safely. Our team of experienced technicians will work quickly and professionally, so you can get your home or business back up and running as soon as possible.
Call Full Spectrum Plumbing today for all your plumbing needs in Clover, SC, and let us show you why we are the trusted name for quality service.
Repair
Our highly skilled technicians have been trained to identify and repair any problems that may be occurring with your existing booster pump system. This will ensure that your system operates effectively and restore optimal water flow.
Installation
We provide expert installation services for new booster pumps tailored to your needs. Our team will assess your property's requirements, recommend the appropriate pump size and capacity, and install it with precision.
Maintenance
Our team provides comprehensive care and preventive maintenance for your booster pump, ensuring it runs optimally. We will inspect its components, check any connections or seals, clean the unit, and ensure all parts are in good working condition.
When you need reliable plumbing services for your booster pump system, contact our experienced technicians at Full Spectrum Plumbing Services. Our team is committed to delivering service that is both timely and professional. We look forward to helping you keep your water pressure running smoothly and efficiently.
Why Full Spectrum Plumbing Services?
At Full Spectrum Plumbing, we are committed to providing each one of our customers with plumbing services of the greatest possible standard. We offer a comprehensive selection of services, such as maintenance, installation, and repairs, for commercial and residential clients alike properties. We understand the importance of having reliable plumbing in your home or business, so we always strive to provide timely and professional service. Our experienced specialists can assist you in identifying and fixing any plumbing issue quickly and affordably.
Our services extend beyond basic repairs and maintenance, as we also offer remodeling, water heater installation, gas line repair/installation, sewer line repair/replacement, backflow prevention device installation, pipe inspection/camera inspections, garbage disposal services, and more.
No matter the issue, Our team comprises seasoned professionals, so you can rely on them to get the job done right. From basic repairs to full-scale renovations, we have the experience and skill to deliver quality results every time.
We take customer service seriously and strive to provide the best possible experience for all our customers. We offer competitive rates in addition to working with you to find a solution within your financial means.
We are the best option for all your plumbing needs because of our dedication to providing excellent service and ensuring complete customer satisfaction.
Call us today to learn more about our full spectrum of services!
Struggling with an unexpected clog in your kitchen or bathroom? Don't let this problem ruin your entire day or disrupt your busy schedule any further! Get the fast help you need when you call on our experts. We will have your plumbing system back to normal with safe and effective drain cleaning solutions.
Your water heater is one of the most important appliances in your home or business. If you are experiencing issues with your system or you're not getting the hot water you need, contact us for immediate service. We will troubleshoot your water heater and go over your options for repair or replacement.
Leak Detection and Repair
Do you notice water stains on your wall or ceiling? Has your water bill gone up? If you suspect a hidden leak on your property, don't hesitate to contact our experts for timely leak detection. We will locate the affected site and discuss the best way to resolve the problem—whether that involves pipe repair or a full repiping job.
Is your property served by a septic system? We understand your unique plumbing needs and can help with septic tank repair, drain field services, inspections, and more. Our experts will provide you with the quality septic solutions you need to enjoy worry-free plumbing and long-term peace of mind. Call now for immediate service.
Enjoy Greater Peace of Mind With Preventive Plumbing Maintenance
Avoid the stress and frustration of having to scramble to call for a plumber when an unexpected problem occurs. With regularly scheduled commercial and residential plumber maintenance services, you can finally enjoy peace of mind year-round and focus on your priorities.
Full Spectrum Plumbing Services offers annual maintenance agreements for proactive customers. This annual plan includes pipe and fixture inspections, drain flow tests, valve checks, and making sure potential problems are resolved as soon as possible.
Reach out to us at (803) 366-1200 for more information on signing up for an annual plumbing maintenance plan!
Why Work With Our Clover Plumbers?
Enjoy a 5-star experience that includes friendly service, cost-effective solutions, and exceptional results.
We will make sure you receive solutions that best meet your particular needs, goals, and budget.
Our experts will get the job done right the first time to ensure your safety and peace of mind.