Don't let plumbing issues disrupt your day—contact Full Spectrum Plumbing Services at [Contact Number] to schedule an appointment with our expert team, dedicated to providing reliable and efficient plumbing solutions in Lancaster, SC.
Professional Plumbing Solutions for Your Home or Business
Full Spectrum Plumbing Services offers a wide range of professional plumbing solutions tailored to meet the needs of both residential and commercial properties in Lancaster, SC. From repairs and installations to maintenance and upgrades, our experienced team is committed to delivering top-notch service and ensuring your plumbing systems are functioning at their best.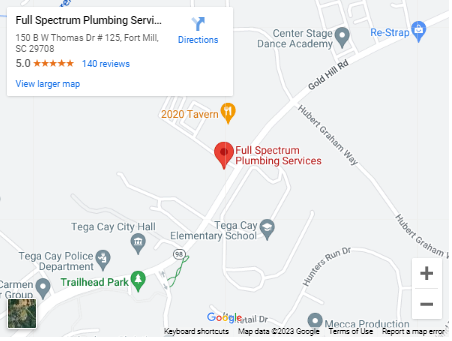 About Lancaster, SC
Located in the heart of South Carolina, Lancaster offers a captivating blend of rich history, natural beauty, and a vibrant community. Whether you're a resident or a visitor, Lancaster has something for everyone to enjoy. Let's explore the allure of this charming town and how Full Spectrum Plumbing Services caters to the needs of its people.
Geographically, Lancaster is nestled in the picturesque region of the Carolina Piedmont. The town is surrounded by rolling hills, serene lakes, and lush green landscapes. Nature enthusiasts can explore Andrew Jackson State Park, where hiking trails, fishing opportunities, and scenic picnic spots await. For those seeking a touch of history, the historic downtown area boasts beautifully preserved architecture and a variety of boutique shops, local eateries, and art galleries.
Lancaster also hosts a range of annual events that showcase its vibrant spirit. The Red Rose Festival, a beloved celebration, brings the community together with live music, arts and crafts, delicious food vendors, and a parade.
During the Lancaster County Fair, visitors can enjoy thrilling rides, agricultural exhibits, and exciting entertainment options. These events foster a sense of camaraderie and create lasting memories for both residents and visitors alike.
As you explore the hidden treasures of Lancaster, SC, let Full Spectrum Plumbing Services be your trusted partner in maintaining the plumbing systems that keep your home or business running smoothly. Contact us today, and experience our dedication to quality service and customer satisfaction firsthand.
The Right Commercial Plumbers For You
At Full Spectrum Plumbing Services, we specialize in providing exceptional commercial plumbing solutions for businesses in Lancaster, SC. Our team of skilled professionals understands the unique challenges that commercial properties face when it comes to plumbing systems. We offer a comprehensive range of sub-services, including:
Repair

Installation

Maintenance

Upgrades and Retrofits
With our commercial plumbing services, you can enjoy several benefits, including:
Minimized Downtime:

Our prompt repairs and efficient service help minimize disruptions to your business operations, allowing you to focus on what matters most.

Enhanced Efficiency

: By ensuring your plumbing systems are in top working condition, we help optimize efficiency, conserving water and reducing utility costs.

Code Compliance:

We stay up to date with building codes and regulations, ensuring that your commercial plumbing systems meet the necessary standards, providing you with peace of mind and avoiding potential penalties or issues.

Professional Services:

Our experienced and certified technicians provide quality service every time. We strive to complete the job quickly and professionally, so you can get back on track.
AtFull Spectrum Plumbing, we are committed to providing reliable plumbing services for businesses of all sizes. Contact us today for more information about our commercial plumbing services!
Repair
From leak detection and pipe repairs to fixing clogged drains and malfunctioning fixtures, our expert technicians are equipped to handle all types of commercial plumbing repairs promptly and efficiently.
Don't let a plumbing issue slow down your business — call us for fast, reliable plumbing repair services today! We'll make sure to take care of the problem quickly so you can get back to doing what you do best. And who knows, maybe we'll even give you a few tips and tricks along the way to help keep your system running smoothly in the future.
Installation
Whether you need new plumbing installations for a retail space, office building, or restaurant, we offer expert installation services for water supply lines, drainage systems, toilets, sinks, and more. Our team ensures proper installation, adhering to industry standards and regulations.
The installation process begins with an assessment of the area where the work is needed. We examine existing plumbing fixtures, pipes, water supply lines, and other components in order to tailor our services accordingly. With this information, we can accurately estimate the costs for materials, labor, and time.
Our team of experienced installers is equipped with the latest tools and technology to make sure the job is done right. We use cutting-edge methods for trenchless installation, meaning we can do repairs or installations without digging up yards or driveways. Plus, our plumbers are certified to complete work in all types of homes and commercial buildings, providing the assurance of a quality job.
Once the installation is complete, we test all systems to make sure they are running properly and efficiently. We take extra steps to explain how your new plumbing works and answer any questions you may have about maintenance and operation.
Maintenance
Regular maintenance is crucial to keep your commercial plumbing systems in optimal condition. We offer scheduled maintenance programs tailored to your specific needs, including inspections, cleaning, and preventive measures to detect and address potential issues before they escalate.
Upgrades and Retrofits
If your commercial property requires upgrades or retrofits to meet evolving needs or comply with regulations, we provide professional services to enhance efficiency, water conservation, and overall functionality. From eco-friendly fixtures to energy-saving systems, we help you make informed decisions that benefit your business.
When it comes to commercial plumbing needs in Lancaster, SC, Full Spectrum Plumbing Services is your trusted partner. Our commitment to quality, reliability, and customer satisfaction ensures that your business's plumbing requirements are met with professionalism and expertise.
Other Plumbing Services We Can Take Care Of
Choose Right, Choose Full Spectrum!
Full Spectrum Plumbing Services in Lancaster, SC is your go-to plumbing service provider, offering a range of exceptional services to meet your residential and commercial plumbing needs. Here are the top reasons why you should choose us:
Expert Team

Comprehensive Services

Prompt and Reliable

Customer Satisfaction
When it comes to your plumbing needs, choosing Full Spectrum Plumbing Services means choosing reliability, expertise, and a commitment to your satisfaction. Experience the difference with our dedicated team and comprehensive range of services tailored to meet your needs.
Struggling with an unexpected clog in your kitchen or bathroom? Get the problem resolved safely and efficiently when you call on our Lancaster plumbers for help. We will provide you with effective drain cleaning solutions that will have your drains flowing efficiently in no time.
Our experts service, repair, and install water heaters of all makes and models. Whether you are planning on installing a high-efficiency tankless system or you need help repairing your current unit, you can count on us to provide you with quality solutions at the best value.
Leak Detection and Repair
Are you noticing signs of a hidden pipe leak in your home or commercial property? Don't let the problem get worse! Contact our plumbers for immediate leak detection. We will locate the affected area and help you figure out whether pipe repair or pipe replacement is the best solution.
Is your home on a septic system? We can help you with all of your septic needs, including septic tank repair and drain field services. Our experts will take the time to inspect your problem and go over the best course of action. We'll have your septic system back to normal as soon as possible!
Enjoy Greater Peace of Mind With Preventive Plumbing Maintenance
Want to avoid the hassle and frustration of unexpected plumbing problems? Take the time to schedule routine plumbing maintenance once a year.
Full Spectrum Plumbing Services offers maintenance plans to help you enjoy greater peace of mind year-round. Our maintenance services include checking your fixtures and plumbing lines for leaks, ensuring that all valves are working properly, servicing your water heater, and making sure potential problems are quickly resolved.
Reach out today to learn more about our plumbing service agreements and sign up for an annual plan!
Why Work With Our Lancaster Plumbers?
Enjoy a 5-star customer experience with a personal touch.
You will always receive personalized services tailored to your needs and budget.
Every service is carried out with your long-term safety and comfort in mind.