A storage water heater that leaks or is inefficient can rapidly disrupt your daily routine, making it difficult to take a hot shower.
Contact our plumbing specialists for immediate assistance with your storage water heater problems. Full Spectrum Plumbing Services is dedicated to providing homeowners with high-quality water heater solutions.
Whether you require assistance with water heater repair, treatment, replacement, or maintenance, our specialists are prepared to offer the most effective solutions.
Call us today to discuss your concerns and schedule a water heater service estimate!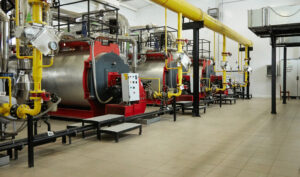 What is a Storage Tank Water Heater?
A storage tank water heater, also known as a traditional water heater or a tank-type water heater, is a common type of water heating system found in residential and commercial buildings. It consists of a large insulated tank that stores and heats a certain volume of water for use.
Here's how a storage-tank water heater generally works:
Water Storage

Heating Element

Thermostat

Hot Water Outlet

Cold Water Inlet
It's worth noting that storage tank water heaters can be powered by electricity, natural gas, propane, or other fuel sources, depending on the model and the available energy sources in the building.
How Storage Tank Water Heaters Work
Storage tank water heaters use a combination of heating elements, a thermostat, and a storage tank to provide a ready hot water supply. Here's a step-by-step breakdown of how they operate:
Water Intake: Cold water enters the storage tank through a dedicated inlet pipe near the bottom. The incoming water replaces the hot water that has been used.
Heating Elements: Inside the tank are one or more heating elements, typically electric coils or gas burners. These heating elements are positioned near the bottom of the tank.
Electric Models:

Electric water heaters have one or two electric heating elements immersed in the water. These heating elements are powered by electricity, and when activated, they generate heat, raising the temperature of the water in the tank.

Gas Models:

Gas water heaters have a burner located beneath the tank. A gas supply line, such as natural gas or propane, feeds the burner. When the burner is ignited, it generates a flame that heats the water in the tank.
Temperature Regulation: A thermostat regulates tank water temperature. The thermostat    is usually around the tank's middle or top. The thermostat activates the heating elements or gas burner to raise the water temperature when it drops below the desired level.
Heat Transfer: As the heating elements or gas burner generate heat, it transfers to the water surrounding them, raising the temperature of the entire volume of water stored in the tank.
Insulation: Insulating the storage tank keeps water cool. This insulation reduces standby heat loss from stored water.
Hot Water Outlet: A hot water outflow pipe draws hot water from the top of the storage tank. This line supplies hot water to faucets, showers, and other fixtures from the building's plumbing.
Temperature Recovery: After drawing hot water from the tank, cold water enters the input line, and the heating elements or burner reheat the water to the desired temperature. Hot water demand keeps the cycle going.
It's important to note that storage tank water heaters have a finite supply of hot water based on the tank's capacity. Once the stored hot water is depleted, it takes time for the heater to reheat the incoming cold water to the desired temperature, resulting in a temporary period of no hot water until the tank refills and reheats.
Lifespan
Depending on maintenance and application, storage water heaters last 10-15 years. Draining and flushing it every six months removes silt that might clog pipes and impair efficiency, extending its lifespan. Storage water heaters can also be developed by lowering the thermostat to 120°F (48°C). This will restrict the hot water supply but save energy and money over time. 
Tankless water heaters outlast storage water heaters. A well-maintained tankless water heater can last 20 years. Since it uses less energy, it may wear out faster.
Installation
Storage water heater installation is part of our plumbing services. Installed water heaters guarantee hot water for showers, baths, and laundry. We strive to install a new water heater in your home quickly and efficiently. 
Our experts can repair gas, electric, and tankless water heaters. We take the time to examine your needs and find the ideal heater for your family because we know every home is different. 
We take pleasure in installing safely and correctly. Before installing a new water heater, we will thoroughly inspect the area for potential issues. We discuss all choices with you so you can choose the best one for your home. 
We guarantee our services and products after installation. We will quickly repair or replace your new water heater if it breaks. 
Full spectrum plumbing services install long-lasting storage water heaters. Our expertise helps you find the best heater for your home and provides a complete warranty. Learn about our full-service plumbing today.
Replacement 
We install and replace storage water heaters. Our professional plumbers can install your new water heater fast. We employ high-quality, safety-certified products. We always get the work done perfectly, thanks to our professional experience! 
Our experts can also maintain and repair your water heater. We employ advanced diagnostic equipment to find and fix water heater issues. Our specialists know all brands and models, so your system will always work well. 
We deliver excellent service. We handle plumbing emergencies 24/7. No matter the assignment, we aim to exceed customer expectations. Contact us today to learn more about our storage water heater installation and repair services or to make an appointment with one of our skilled plumbers. We're excited to help! 
Leaks 
At Full Spectrum Plumbing, we specialize in leak detection and repairs of storage water heaters. Our technicians are highly trained to locate the source of a leak as quickly as possible and make necessary repairs. We understand that having a leaking water heater can inconvenience your family, so we strive to provide quick and efficient services to get you back up and running in no time. 
We also provide preventative maintenance services for your storage water heater to ensure it remains in top working condition and free from leaks. We can inspect the tank, check connections for potential problems, and replace or repair broken parts. Regular maintenance is the best way to ensure your water heater lasts and provides consistent hot water for years. 
Whether detecting a leak or providing preventative maintenance, Full Spectrum Plumbing can help with all your storage water heater needs. Contact us today for reliable and professional services!
Repair 
Full Spectrum Plumbing repairs storage water heaters well. Our skilled technicians will swiftly diagnose your storage water heater problem and suggest a cost-effective solution. We replace thermostats and revamp systems! Our swift response time and customer service guarantee good work. 
We know your storage water heater is essential for efficient and comfortable living. Therefore, we always aim to exceed your expectations and keep it functioning well. We use only the best components and supplies when repairing or replacing water heaters. We guarantee your satisfaction and handle safety issues. 
Refrain from repairing your storage water heater yourself. Full Spectrum Plumbing offers storage water heater repair services.
Pricing
Our skilled plumbers install many storage water heaters to meet your needs at Full Spectrum Plumbing. We install and replace units. Our team provides excellent service at cheap pricing to maximize your purchase. 
We keep our storage water heater prices low since money is a big consideration. Installation costs $150 for most regular units and $250+ for tankless systems. Multiple facilities or teams qualify for savings.
Our skilled plumbers can install, maintain, and repair any storage water heater. We offer 24/7 emergency services for unforeseen breakdowns. Our specialists will assess your water heater and recommend a repair. 
Full Spectrum Plumbing offers the best plumbing services at cheap costs. Our team can help you locate the right storage water heater for your needs and budget. Call us today to learn more about our plumbing services.